There was a time when the problem of a dead gadget (a mobile phone or laptop) could only be solved by connecting it to a stationary power source. Today, having a portable charger (Power Bank) at hand, we have the opportunity to recharge our device at any time. Very convenient, right? Its presence — both at home and at work — has become especially important with the advent of frequent and prolonged power cuts in our lives.
If you don't already have such a useful item, or if the one you already have is no longer sufficient, in this article we will help you figure out which Power Bank is better to choose, taking into account the personal requirements for such a portable device.
Which Power Bank is best to buy
If it is important for you to understand how to choose the right charger, you need to consider the following points:
In what environment do you plan to use the charger?

In daily use.
The optimal variant is a Power Bank with a relatively low battery capacity (3000-10000 mAh).
When travelling around the city / out of town.
In such cases it is better to buy a portable charger with 10000 mAh capacity.
While trekking, long travels.
It should be a Power Bank with high capacity (10000-50000 mAh), which is made of durable material and has a reliable protection against moisture and dust.

What and how many gadgets are you going to charge?

The first thing to consider here is amperage. If your smartphone, tablet, laptop, headphones, smart watch, camera or other device is powered by 1A, then a connected Power Bank with a 2A socket will quickly solve the charging problem. It will take a very long time to charge a 2A powered gadget from a 1A Power Bank. If you want to use the portable charger to charge multiple devices simultaneously, the capacity of the portable battery affects this ability. You will find out how to calculate it yourself next.

Determine the required capacity of the external power pack.

To do this, multiply the battery capacity of any device (e.g. a smartphone) by a factor of 1.5, then divide the battery capacity of the Power Bank by this value. In this way, you can find out how many charges of such a gadget the Power Bank will last. But remember: the capacity stated by the manufacturer is usually 10-20% less than the actual capacity.

Decide on the type of charging.

Charging can be fast, wireless or through charging.

A Power Bank with the fast charging type not only allows you to charge a dead device faster, but also to replenish its own lost capacity 1.5-2 times faster. If this option appeals to you, first make sure that the charger and the gadget support the same standard (USB Power Delivery, Qualcomm Quick Charge or others).

Wireless charging can also be found on the market. If your device supports Qi technology, in order to charge it, all you have to do is touch it to the specially marked area on the mobile battery, under which there is an induction coil.

Some Power Banks are capable of charging other devices and charging themselves at the same time — this type of charging is called pass-through charging.

Pay attention to the appearance of the charger.

Colour and shape are not key to the choice. What matters is the material of the charger case (if made of metal, it will protect the battery from mechanical damage). Weight and dimensions are another important feature: the higher the battery capacity, the heavier and larger the device.

What is your budget?

Based on your individual needs, today you can choose a Power Bank priced under 1000 UAH or a more expensive model from those on sale — 5000 UAH or higher. The price depends mainly on the brand, manufacturing material, appearance, functionality and capacity declared by the manufacturer.
We reviewed the general issues that play a role when choosing a suitable charger model. Now let's figure out how to choose a Power Bank if you need it mainly for charging a specific device.
A smartphone charger: what to look out for when choosing one
Let's start with a device, without which today it is difficult to imagine the life of any modern person — a smartphone. You have to agree that you can't go far with a fully and untimely empty phone. So if you are looking for a suitable Power Bank to charge your smartphone, first of all, study the following parameters:
Size.

The most compact Power Banks are easy to use, but have the smallest capacity. Which will not be enough if you own a powerful smartphone.

Capacity.

To charge your mobile phone, a portable charger capacity of 10000 mAh is enough.

Connectors.

Different models of Android and iPhone differ in types of connectors (micro-USB, USB Type-C). If Power Bank and mobile phone connectors do not match, you need to use a special cord to connect the charger.

Power of the power bank.

Keep in mind that an external battery with a lower amperage than the smartphone's manufacturer claims will charge more slowly. However, you can safely use a charger with a higher amperage rating.
What type of Power Bank to buy for your tablet
A tablet is a larger gadget than a mobile phone. Therefore, the choice of a suitable charger for it has its own criteria:
Connectors.

Ports in Android tablets are usually the same as in smartphones (micro-USB or USB Type-C). Whereas iPhone models have Apple Lightening interface connectors. So in case of a mismatch you can't do without a special cord.

Capacity.

External batteries with a capacity of more than 10000 mAh are designed for several charging tablets.

Current strength.

A suitable option for charging your tablet will be a Porsche Bank rated from 1.5 A.
Laptop Power Bank: how to choose one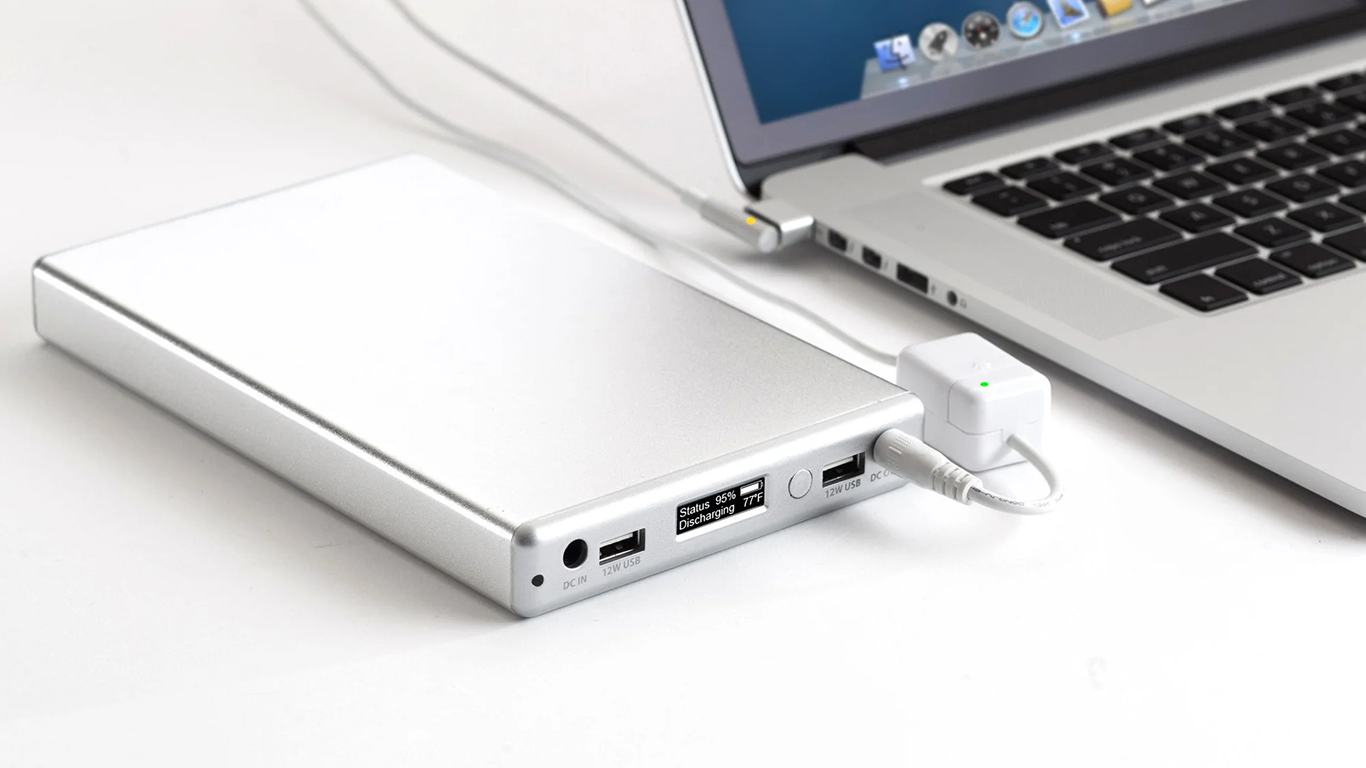 Now let's share with you how to choose a Power Bank for your laptop. In this case, it is important to consider the following device characteristics:
Connectors.

If relatively old models of laptops are equipped with DC connectors, the modern models are provided by manufacturers with many more varieties of ports than smartphones and tablets (USB 2.0, Type-A Plug; USB 2.0, Type-B Jack; USB 3.1, Type-C). Each port fits with the corresponding cable standard. It's convenient that today you can buy portable chargers with different types of adapters.

Capacity.

Several laptop chargers are able to provide the Power Banks with a capacity of 20000 mAh.

Power parameters.

To cope with the charging of modern models of laptops, the current capacity of the external battery should be higher than 3A, and the voltage — at least 12 V.
Summary
With the high demand for portable charging gadgets, an increasing number of manufacturers offer modern models with a variety of features. In order not to make a wrong choice, select the device based on your needs and user reviews of the brand — then the purchased Power Bank will be your reliable assistant for many years.