In the light of recent events with emergency power outages on Ukraine territory, it is a reasonable decision to organize a backup power supply system in your house or apartment.
In this article, we have collected information about the most popular backup power sources and their features to make it easier for you to decide on the best option.
What is the need for and how is the backup power system for the home
An uninterruptible backup power supply system for a home is useful in the following cases:
the electricity often turn off in the country house or in the apartment;
there is a limit on the connected power, but there is not enough allocated power;
overvoltage periodically occurs in the electrical network;
poor quality electricity is supplied;
the house has an expensive electrically dependent heating system, which can fail due to power outages;
in order to save electricity.
A typical uninterruptible power supply kit includes an inverter (uninterruptible power supply — UPS) and a set of batteries for uninterrupted power supply. In the normal load mode in the UPS + battery system, the battery is charged by means of an uninterruptible battery in order to maintain its nominal capacity. When the parameters of the external network exceed critical values of a power outage, the backup power system for the home allows all electrical appliances connected to it to automatically switch to battery power through the inverter.
Energy backup at home can be achieved by using equipment specially designed for this purpose. Its main types will be discussed further.
Autonomous sources of backup power supply: advantages and disadvantages
The following can be used as autonomous power sources for the home:
Gasoline generator
This device operation principle is to convert mechanical energy from the combustion of gasoline fuel into electrical energy. The relatively small size of the gas generator allows you to place it on the balcony in the apartment. Such equipment is easy to start both at room and at lower temperatures. However, during operation, gasoline generators create noise within 70 dB (the noise-absorbing device body helps to reduce its level).
Diesel generator
By analogy with a gasoline generator, a diesel generator converts mechanical energy from the combustion of diesel fuel into electrical energy. But unlike the device discussed above, this is able to work around the clock without interruption. Diesel fuel consumption is 1.2-1.5 times less than gasoline. Plus, diesel generators generate electricity, the cost of which is lower than that generated by gasoline generators. But there are also disadvantages: generators running on diesel fuel are more noisy, they pollute the environment more, it is more difficult to start in the cold and they are more expensive than gasoline ones.
Gas generator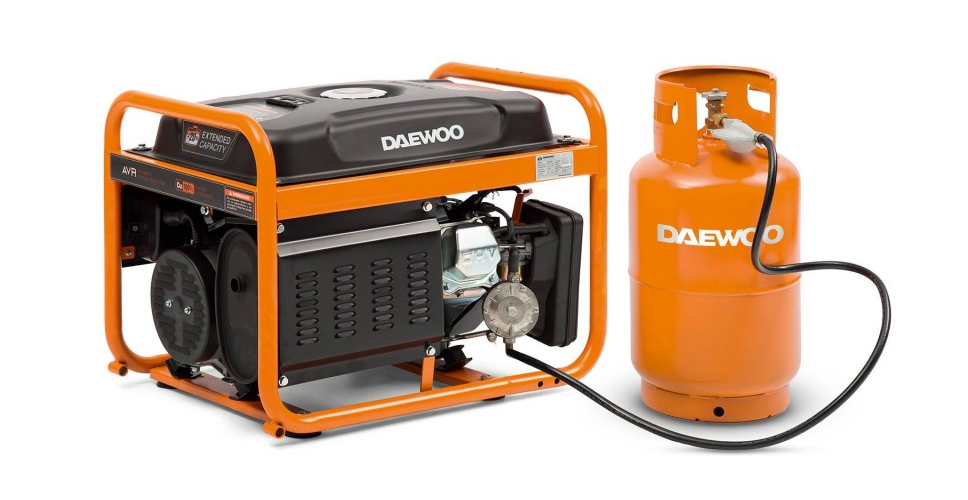 Gas generators operate quietly and emit dozens of times less carbon dioxide than gasoline or diesel devices. With the launch of gas generators there are no problems in any weather. But the price of this mini power plant is about 20% higher compared to gasoline counterparts, and fuel is less available, which scares off many potential buyers. And there is another significant nuance: choosing a gas generator for the home is beneficial in situations where power outages occur frequently and for a long time. Otherwise, it will not provide significant savings on the consumed electricity cost.
Uninterruptible Power Supply (UPS)
Such a device provides a backup power supply using rechargeable batteries. The main advantages of an uninterruptible power supply are full automation of work, improved power quality, and environmental friendliness. Disadvantages: the operating time of models up to 20 kW is limited to tens of minutes, and the batteries capacity decreases over time, which entails the cost of purchasing new components. Another disadvantage of the power supply source: due to the noise from the cooling fan, the device must be placed in technical (and always heated) rooms. And besides, uninterruptibles are expensive.
Inverter power supply (inverter)
An inverter-type generator is a compact unit capable of delivering current with any parameters regardless of the input voltage due to the battery. The inverter power supply is environmentally friendly, operates silently and can be placed in any heated room. However, inverters have the same drawback as the UPS: after 3-5 years of operation, the battery loses its capacity, which leads to a reduction in the battery life of the device by about half. Therefore, additional costs for battery replacement cannot be avoided.
Solar power plant
A solar power plant installed as a backup source of power supply allows you to convert solar energy into electrical energy. Its battery life is not limited, "fuel" is available and free of charge, and its use does not have a negative impact on the environment and allows you to influence the electricity price. But, as in the case of a gas generator, with low electricity consumption, the savings are negligible. In addition, the cost of this backup power plant is relatively high, and if it becomes necessary to move, this creates inconvenience.
Powerbank
The design of this external generator with a 220 V socket uses a built-in battery. Portable chargers are on the market today in various modifications. And although they cannot be fully attributed to backup power sources, powerbanks are quite suitable for maintaining the operation of household electrical appliances in an apartment. The presence of several ports in modern models allows you to simultaneously charge the most necessary equipment at home (for example, Xiaomi's recently introduced Mijia Outdoor Power Supply 1000 Pro powerbank in China is designed to simultaneously charge up to 13 devices).
Advices for choosing the best type of backup power supply
If you are interested in choosing the most suitable backup power source for your home, experts recommend considering:
Nature of electrical problems
If the electricity in the network disappears rarely and for a short time, an inverter or UPS with a minimum set of batteries will help to cope with the problem. In situations of frequent and prolonged power outages (up to 24 hours), it is better to purchase an inverter with a set of backup batteries designed for the required time. In case of power outages for more than a day, it is more expedient to use a diesel or gas generator. Also, in each of the described cases, it is permissible to use solar power plants.
Power
From this indicator, which is measured in volt-amperes (VA), the battery life of the device directly depends. It is optimal to choose an uninterruptible power supply with a capacity of 30% more than the power of the connected equipment. If you have a desktop computer, it is enough to purchase a UPS with a capacity of up to 1 kilowatt (kW). Uninterruptibles with a power of 1-5 kW are suitable for connecting servers and local networks (in which cases it is necessary for the site, we will tell in this article). The most powerful devices (more than 5 kW) are designed to service a large number of equipment and servers.
Battery replacement possibility
UPS batteries have a term of use in 3-5 years, after which they wear out. By choosing UPS models with a removable battery, you can replace the battery, which will cost less than buying new equipment.
How to choose a UPS for your home?
To determine which uninterruptible power supply for your home is right for you, you must perform the following steps:
Determine power consumers for load redundancy. This is done in order to separate in the electrical panel too powerful consumers, which are not worth reserving, and the rest are the most important for you.
Determine power consumption. This can be done either using a special device, or based on data from instructions or average power consumption.
Determine load backup time and power consumption.
There are 4 ways to do this:
Measure the electricity meter readings for a certain time.
Use a device for calculating electricity consumption.
Find out the approximate consumption of electricity per day by dividing the total figure for the month by 30 days.
Calculate the electrical appliances consumption and the amount of energy they consume by multiplying the power by the operating time.
After that, you can proceed directly to the choice of the UPS model.
What are the most popular UPS brands for a country house?
The most affordable for purchase in Ukraine are Chinese-made uninterruptible power supplies, among which the APC and KSTAR brands are popular. Despite the limited functionality, with proper operation, such models successfully cope with their tasks. Of the European brands in our market, UPS from the Italian holding RIELLO are trustworthy, which are distinguished by wide functionality and high reliability. As for Ukrainian manufacturers, high-quality and high-productive UPS kits are offered by LogicPower.
We advise you to purchase certified UPS from trusted suppliers. In this case, you can use the warranty service of the purchased equipment, as well as get help in resolving other issues that arise. And the initial savings on buying an uninterruptible power supply of dubious quality can entail not only subsequent costs for service maintenance and repair of the device itself, but also additional costs for buying a new electrical equipment to replace the broken one connected to it.
Summary
To protect your home from problems due to power outages or voltage drops below a critical value, take care in advance to install a suitable emergency power supply system. The material of this article will help you competently solve this issue.