If you have begun to forget what paper money looks like and use cashless payments for the vast majority of your purchases, you should know how to protect your finances. Today we will tell you how not to become a victim of cyber-fraud.
Common fraud schemes
The number of online transactions around the world is growing every day, but the number of fraudsters is increasing at an even higher rate. Their attacks are focused on medium and small businesses, but often the criminals target ordinary users. The following common fraud schemes are highlighted:
Phishing. Today it is the most widespread method of money laundering. Statistics show that 91% of cyberattacks start with phishing. The scheme is simple: fraudsters send bait e-mails under the guise of reputable companies (often banks). The sender's address usually looks plausible (if you don't look closely), but the email contains suspicious requests. This can be an offer to change a PIN-code due to compromise, a request to update data, confirmation of information. Usually links to similar «respectable» sites are inserted into the letters. If the user follows the instructions, funds or personal information is stolen immediately.




Phishing sites can «pretend» to be payment services (phone top-ups, card-to-card transfers) or official bank pages. For example, about 50 imitators of the popular online payment service Portmone are created every year.

Vishing. A scheme similar to phishing, only the main tool here is the phone. Fraudsters introduce themselves as bank employees over the phone and insist on certain information, explaining it as an emergency (a card has been compromised) or a scheduled update of the database.




Exploiting mobile app vulnerabilities. All popular Android and iOS software are constantly being hacked, and some of them are successful. This is how hackers gain access to data on smartphones.




«Helping a Friend». Once popular, this scheme is once again in active use today. Fraudsters hack vulnerable accounts on social networks and messengers and ask friends for financial help. One type of the scheme involves calling relatives with bad news and asking them to send money.
How not to get caught
Do not think that the likelihood of encountering such a problem for you is small. Scammers aren't too selective in their choice of victims, and the scope of attacks is impressive in size. Following our rules won't be difficult, they will help you to identify scammers. By the way, you may not ignore them right away, but make a little joke. For example, send in response to a phishing email of «actualization» the data of a famous actor, and when you hear the voice of the «son» on the phone, who needs money, shout that first return the past debt. Or offer them to buy something from you.
Rules of protection against fraud:
Don't give personal information, especially bank details, to unverified sources.
Pay attention to addresses. This applies to the address bar and the name of the sender of the letter (be careful, it's not easy to spot one wrong letter). Before you click on a link that isn't too trustworthy, move your mouse pointer to it and check the address.
Don't download files from unverified resources, always pay attention to the download buttons. If the button is too bright and looks inconsistent with the style of the site, look for another one, the first may lead to a malware download.
If you are asked for something serious on social networks, connect with the person on other resources before complying with the request.
Be careful when looking for a job. There are many mock recruitment agencies and fake recruiters who scam job seekers out of money.
Pay attention to messages about needed updates. They should not appear on certain sites, but should be tied only to the programs themselves, which need to be updated.
Use antivirus programs and keep them up to date. They can block threats that go unnoticed by the user.
Educate parents and children about online dangers and safety rules. They are more likely to fall victim to scammers because they are inattentive and naive. Parental controls can help protect children from scammers and other online dangers. For elderly relatives, if they receive such calls or messages, advise them to call you before taking any action.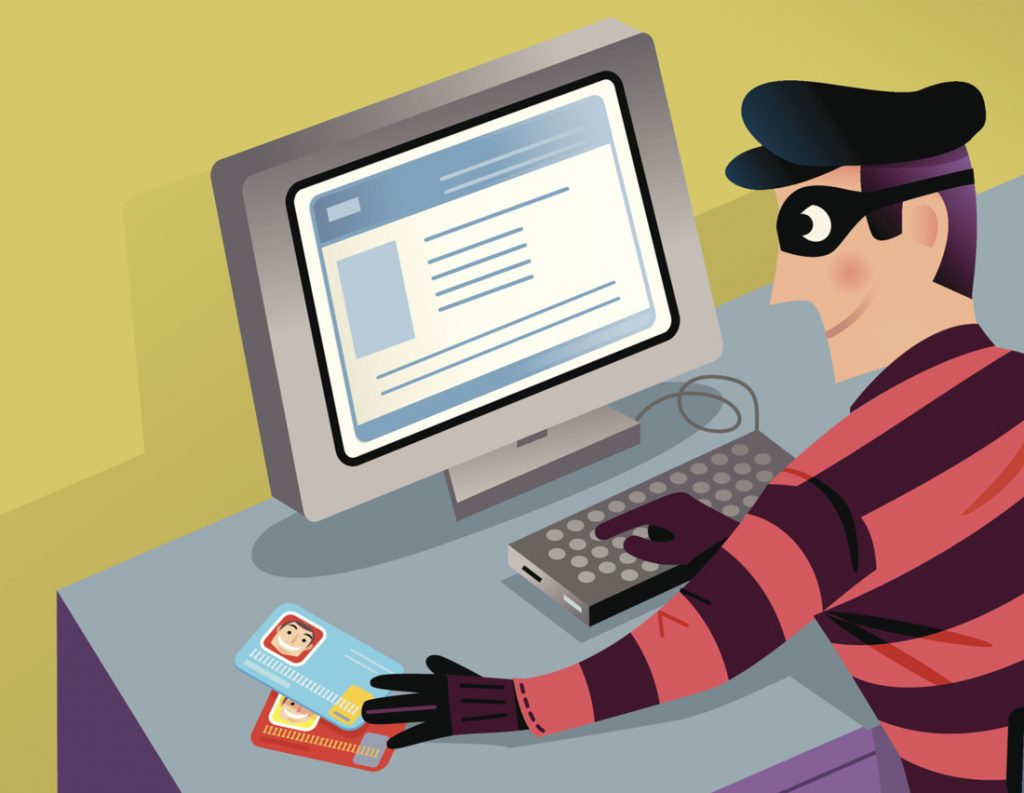 Many people are afraid that fraudsters can withdraw money from a contactless payment card in a crowd. In theory, this is possible. However, the amounts available for contactless withdrawal usually don't exceed 100 UAH, and mobile terminals of swindlers are quickly identified and blocked by banks.
Don't forget about the importance of strong passwords. Also, pay attention to the password field. The symbols should not be open (asterisks or dots instead of letters and numbers).
We hope our tips will help you and your family not to fall victim to fraudsters and keep your finances in order.