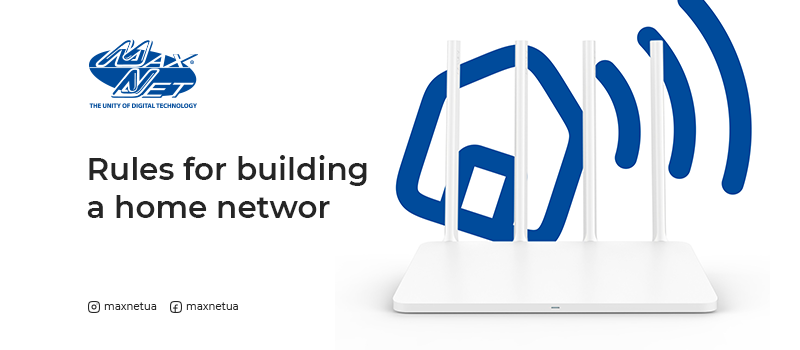 Typically, home networks consist of one router and several devices connected to it. When the need arises to extend the network, not all users are able to correctly select the network devices and arrange their interaction. Let's find out how to correctly build a home network.
Types of signal transmission
A correctly positioned and configured router is sufficient for a stable signal in a one- or two-room flat. Owners of large houses with several floors and many connecting devices will not be able to build a network so easily. If a large area needs coverage, wireless (WLAN), wired (LAN) and Powerline technologies must be used. Be sure to choose a «star» topology so that each device is connected directly to the network.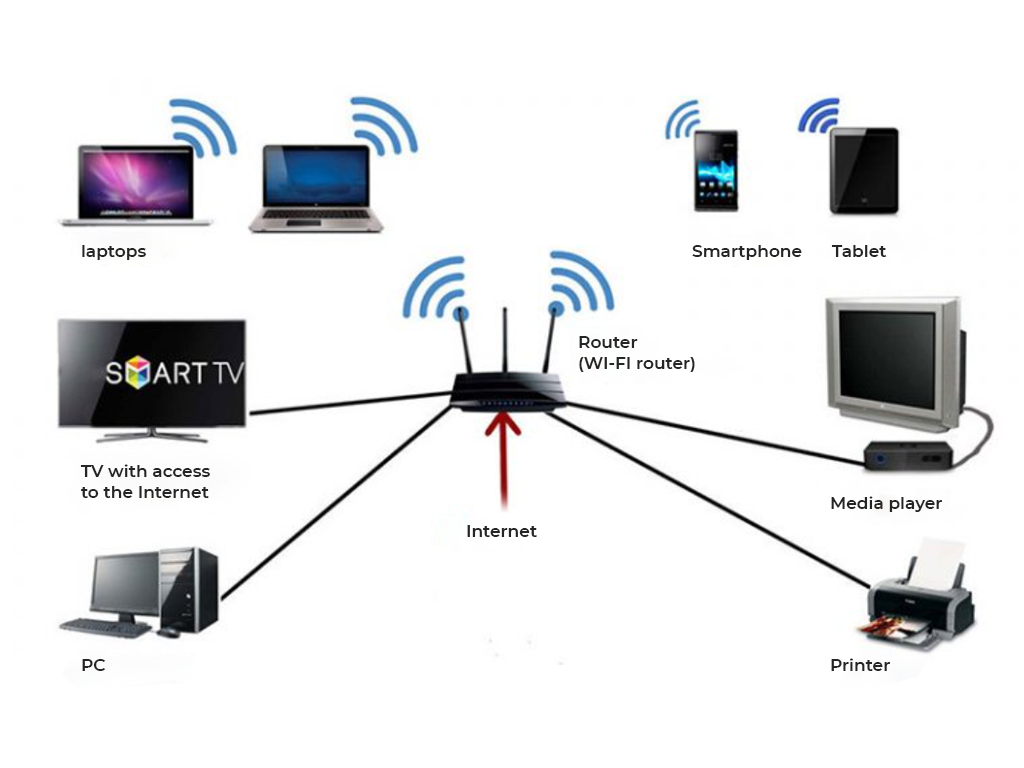 Setting up a wired network
If you are going to connect to the Internet or change your tariff plan, it is best to go with a gigabit package. This connection speed will meet the needs of all connected devices and the word «waiting» will be a thing of the past.
How to choose a cable
Pay attention to the marking on the cable used for connection and with which you connect the network devices. It should be an eight-core twisted pair cable. It is also a good idea if the cable is shielded. You can verify the technical data by referring to the markings. The most common types of twisted-pair cable include:
UPT — unshielded twisted pair;
FTP — foiled twisted pair;
FFTP — twisted pair with common foil shield and foil shield for each pair.
Usually the number of pairs (e.g. 4PR: 4 pairs or 8 cores) is placed after the listed abbreviations. A cable category may be given instead. The most common are cat 5, cat 5e, cat 6. If you want high speed, you need 5e and above. Read more about network cables in our article.
Selecting network devices
If you are setting up a home network with many devices (several computers, a home server, a TV, a media player, a set-top box, etc.), you may not have enough ports in your router. In such a situation, use a switch.
Such devices can be designed for home and office networks, and the number of ports and capabilities of the switches depend on this.
Note that the ports of network devices may also be designed for different connection speeds. Therefore, read the instructions carefully and connect to the gigabit ports what needs to communicate as quickly as possible (e.g. computer and NAS).
Deploying a wireless network
The key element is the router or the router. When choosing a device, pay attention to the standard on which it operates. The fastest and most modern is 802.11ax. There are devices that support this standard, but they all belong to the premium segment. The most popular standard at the moment remains 802.11ac. If you are upgrading or planning to upgrade to Gigabit Internet and want high speeds both over the network cable and wirelessly, you need a model that supports this standard. But be warned: the operating frequency range is 5 GHz, and not all receiving antennas of gadgets support it. Therefore, it is not advisable to scrap your old router, which operates in the 2 GHz frequency band, but rather to connect it to a new one.
The connection can be established using a network cable (the LAN port of the new router must be connected to the WAN port of the old one and set to «Access point» mode). In this way, you can extend your Wi-Fi coverage area. In doing so, connect devices that do not support the new standard, as well as those that do not need high speed (smart appliances), to the old router.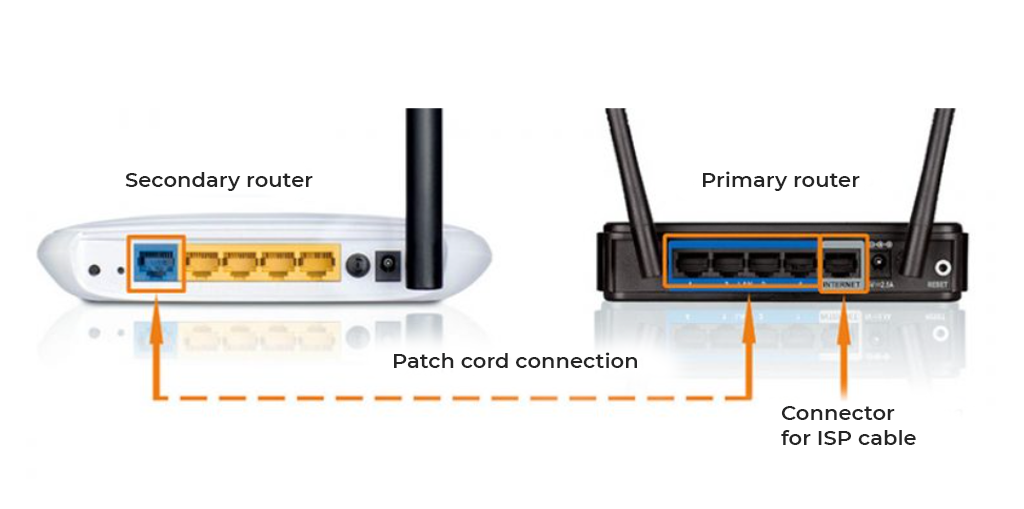 When you need Powerline
To avoid turning your home into a realm of wires, you can use Powerline technology. It involves transmitting network data over power lines.
For example, if your router is on the first floor and your computer room is on the first floor, you can connect a LAN cable from the router to the Powerline adapter and plug it into a wall socket. The second adapter should be plugged into a socket on the first floor and the network cable going to the computer should be connected to it. Next, connect the devices (press and hold the «Pair» button after plugging into the socket) to create an encrypted channel. Prerequisite: both sockets must belong to the same switchboard.
This option will avoid drilling into walls or opening up skirting boards. In addition to its appearance, it is practical; there is much less chance of damage to a short cable from the socket to the unit than a long one (especially if you have children and pets).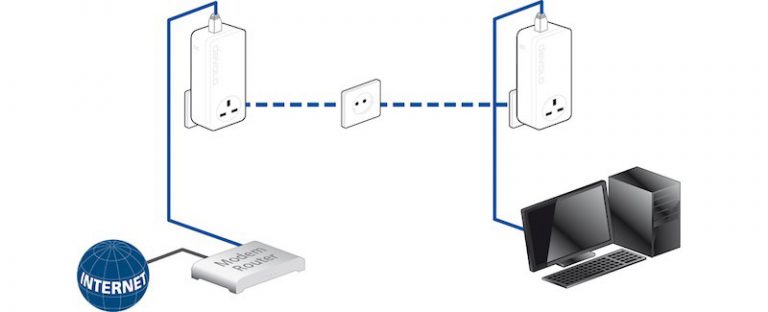 Powerline will be faster than Wi-Fi because the electrical signal is not affected by the interference that negatively affects the wireless connection. On the other hand, Powerline will be adversely affected by the fields created by powerful electrical appliances (refrigerator compressor, microwave).
Powerline technology can also be used to extend wireless coverage. In this case, one of the adapters will be equipped with a Wi-Fi antenna.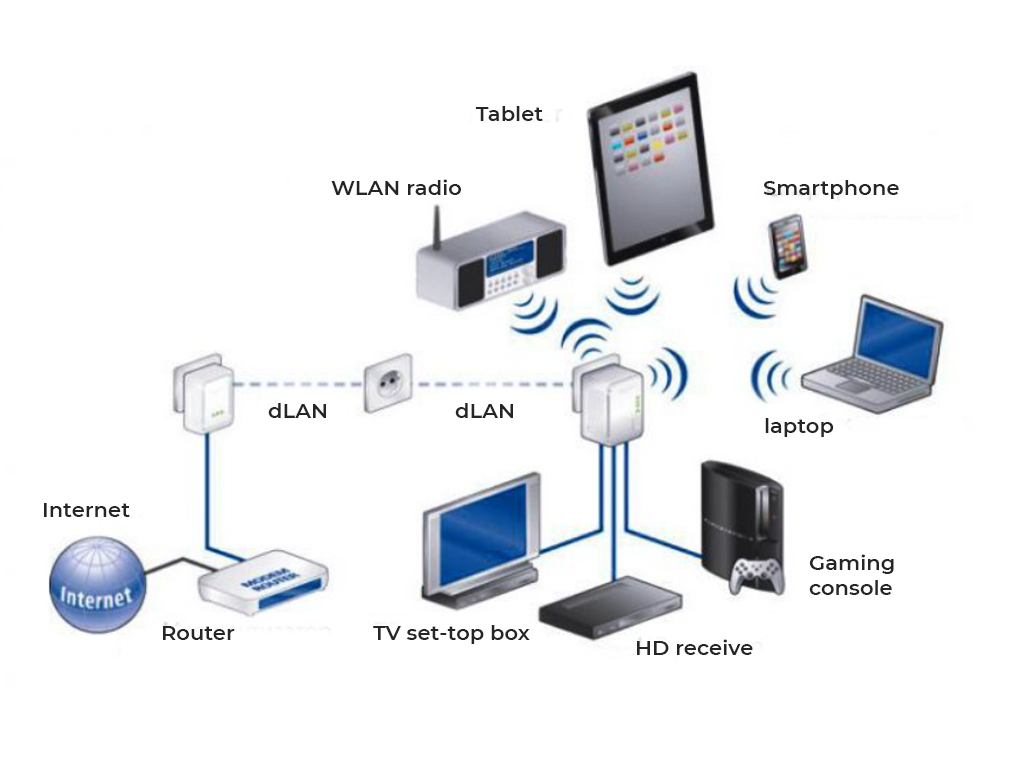 Conclusion
The right combination and layout of network devices will ensure stable speeds throughout the home and connect all available gadgets. A home network speeds up and simplifies data exchange. It only needs a single connection point provided by your ISP. And if you add network storage to your equipment, you can:
create an entire media environment;
deploy your own cloud;
access your files from any device, anywhere in the world.