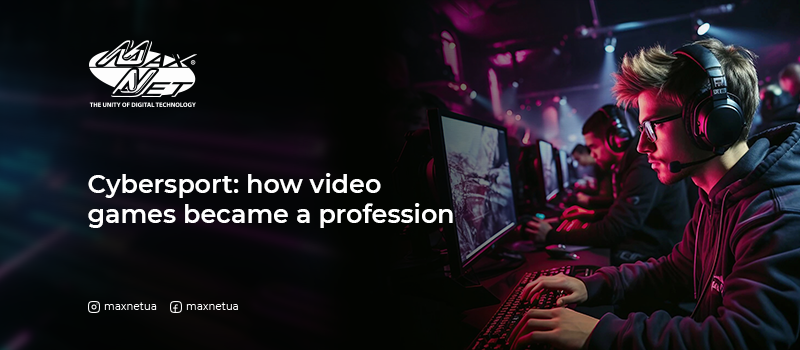 Perhaps the first thing that comes to most people's minds when they hear the word "cybersport" is playing "shooters" on the computer. But in fact, nowadays it is quite a powerful branch of the modern digital industry, because cybersport as a separate discipline is even included in the curricula of some universities, and the number of jobs in this field is growing every year. We ourselves became interested to understand what this "cybersport" is and why it has become so popular. And this is the information we can share with you.
What is cybersport
Such a type of activity as cybersport is a competition in video games. In other words, a professional cyber athlete plays the chosen computer discipline in tournaments and earns money in case of successful performance. And cyber gamers, who at the same time play for a certain organisation, also receive a salary depending on their skills and experience. Therefore, it is important for a gamer to get into a good organisation to earn a high income. Under such conditions, the annual income of a player can reach hundreds of thousands of dollars.
Like traditional sports, modern cyber sports are of two types: individual (each participant plays for himself or herself) and team (two or more teams compete against each other). But the second type is still more widespread.
The most popular among modern cybersports games are considered:
Counter-Strike;
Dota 2;
League of Legends;
Overwatch;
FIFA;
StarСraft 2;
Hearthstone;
Fortnite.
Cybersports and classic sports: similarities and differences
Classic sports and cybersports have something in common: aspiring players who want to succeed need to train every day to hone their skills. Like ordinary athletes, gamers work 8-12 hours a day, but not in halls or stadiums, but at computers, so perseverance is a must-have for them.
According to the representatives of the computer industry themselves, the players are also required to be purposeful, analytical thinking, and understanding of building appropriate tactics and strategy of the game. And although the games take place in the digital world, cyber sportsmen also have to move around a lot, as tournaments are held in different countries. During the pre-tournament preparation phase, team members are often housed in one place where they diligently prepare for the game under the guidance of experienced analysts and strategists, similar to how regular athletes prepare for their matches with their coaches. The only difference is that the games are not sports disciplines, but computer disciplines.
Unlike classic sports, which are quite conservative, cybersports is more dynamic: new disciplines are constantly appearing, formats are being updated, etc. Therefore, fans of modifications will definitely not be bored. Besides, the competition here is probably even higher.
As for the audience of cybersport, it is also undergoing changes over time. If earlier typical gamers were mostly teenage boys, now almost half of American players are women, with an average age of 34.
Another peculiarity of this kind of activity is that famous cyber sportsmen are still more down-to-earth people than the stars of football, basketball, tennis or other popular sports. You can get close to your idol from the cyber sports arena by simply chatting with him or her in a stream.
And in contrast to classic sports competitions, the motto "sport is out of politics", as it turns out, does not always work in relation to the participants of virtual games. A prime example is the recent disqualification of Russian players from the Fortnite World Championship. Epic Games, the developer of the Fortnite game, thus supported Ukraine, referring to the sanctions imposed on the aggressor country after the start of a full-scale war on our territory.
History of the development of cybersport and its place in the world
Today, prize funds in the cyber sports industry can reach from tens of thousands of dollars at city tournaments to tens of millions of dollars at world championships. The size of the winnings depends on the scale of the event and the number of sponsors involved. For example, the prize fund of the first ever tournament for the popular game Dota 2, held by its developer, Valve, in Cologne in 2011, totalled $1.6 million.
But at the stage of its inception, cybersport was a rather modest phenomenon. Thus, the first video game tournament was held in 1972 in one of the laboratories of Stanford University. Only 24 students took part in the competition, and the winner received a subscription to Rolling Stone magazine.
A significant impetus to cybersports was given by the spread of the Internet, thanks to which competitions began to be held on a regular basis. And one of the first countries where cybersport was recognised at the legislative level was South Korea. It was there in the late 2000s that there was a real boom in schoolchildren and students visiting internet cafes to try their hand at video games.
In Europe, one of the first outstanding events in the history of cybersport is considered to be the Electronic Sport World Cup (ESWC) tournament, held in 2003 in Paris, with a prize fund of over €150К. Since then, the ESWC has become an annual event, with the best international teams taking part.
Culture of cybersport in Ukraine
The places where the history of Ukrainian cybersport began to emerge in the 90s were ordinary computer clubs. In the early 2000s, the first cybersport organisations began to appear in our country. And only in the 2010s cybersport here is reaching a new level. It is believed that the spread of popularity contributed to the release of the well-known game Counter Strike: Global Offensive, which is still a favourite among the world's cyber sports disciplines.
Officially, cybersport in Ukraine was recognised only in 2020. Today it is not just a game — it is a professional sport that requires from players not only reaction speed, but also strategic thinking, coordination and teamwork. And unlike in the 90s, it is no longer necessary to specially "book" a place to play in a computer club: it is enough to have a gaming PC to set up a game-zone at home.
Among Ukrainian teams and single players there are successful and world-famous. For example, NaVi, founded in 2009, won a number of prestigious international awards, and in 2010 became the winner in three major cybersports tournaments: World Cyber Games, Intel Extreme Masters, Electronic Sports World Cup. A year later NaVi won The International tournament in Dota 2 and received one million dollars.
Major cybersport tournaments in Ukraine also take place. For example, a historic event was the holding of the first ever Minor on the game Dota 2 in the winter of 2017 in Kyiv Cybersport Arena. And in the spring of the same year, Valve hosted a major tournament Major.
Summary
As you can see, cybersport is a fast-growing industry that attracts talented players and millions of viewers around the world. Therefore, it is not surprising that it has become a popular way of entertainment and even a way of earning money for young people, including in Ukraine.