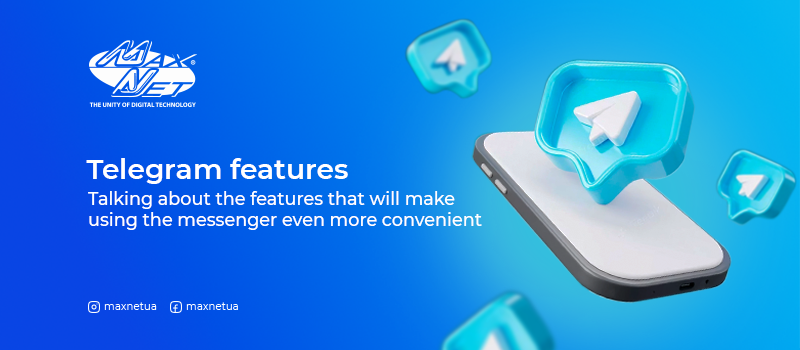 Do you actively use Telegram and are sure that you do it to the fullest? Before answering your question, here is a list of more than twenty useful and free features of this convenient and multifunctional application. It is very likely that among them you will find some that you did not know about before.
1. Formatting and hiding text in a message.
To add various accents to the text, individual words in it can be bolded or italicized, underlined or strikethrough, or created as a link. To do this, select a certain fragment of text and in the tab that appears click on "⁝". In the formatting menu that opens, select the format that suits you best.
The messenger also allows you to hide part of the text in a message. Before sending it, you need to enter the formatting menu and set the "Spoiler" attribute to the typed text. To display the text, click on it, and voila — the information that you want to protect from it becomes available.
2. Selecting a color theme for the chat.
The first thing you need to do is go to the profile of the user with whom you are having a conversation. Then click on ":" in the upper right corner — go to "Set Wallpaper" and Choose theme from the suggested ones. A convenient way to make communication more personalized.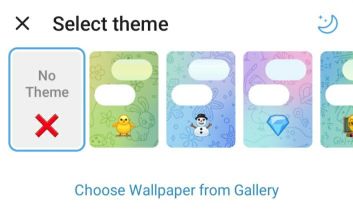 3. Use hashtags in chats.
By tagging hashtags with important points in messages, clicking on any hashtag or typing into a search will help you find information of interest faster within any chat or channel.
4. Messages translating in correspondence.
The option is activated in the settings section "Language" — "Translate Messages" — "Show Translate Button". Very convenient if you have to communicate with a multilingual team.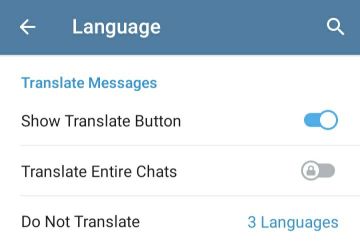 5. Sort channels and chats into folders.
For those who care about order everywhere and in everything, this feature will definitely come in handy. Go to "Settings" — "Chat Folders" — "Create New Folder", and then enter the name corresponding to the future content of the folder and add to it certain channels or chats from your list. And no more chaos in the messenger!
6. Change the order of folders and assign chats and channels.
Once chats are grouped into folders, you can change the folders order, if necessary. How to do this? Go to "Settings" — "Chat Folders", press the name of a particular folder and drag it above (then it will be displayed on the left side of the screen) or below (then it will be displayed on the right side of the screen).
Most often used chats or channels can be pinned in the main feed (no more than 5 chats for regular users, 10 — for Premium users) or folders (any number). To do this, click on the chat you want to pin and in the settings menu that appears, click "⁝" — "Pin".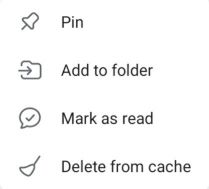 7. Using a QR code as a business card.
This is how you can add a new contact to Telegram. To create a QR code, go to the "Settings" section and tap the corresponding icon in the upper right corner of the screen. In order for a particular contact to receive a link to your account, share a QR code with him or her, which he or she must scan.
8. Hiding your online status.
Don't want your contacts to see the last time you were online? OK. Just go to "Settings" — "Privacy and Security" — "Last seen & Online", and in this section select the category of users who can see your visits: "Everybody", "My contacts", "Nobody". If you select the "My Contacts" category, you can "Add exceptions" for individual users by selecting "Always Share With" or "Never Share With".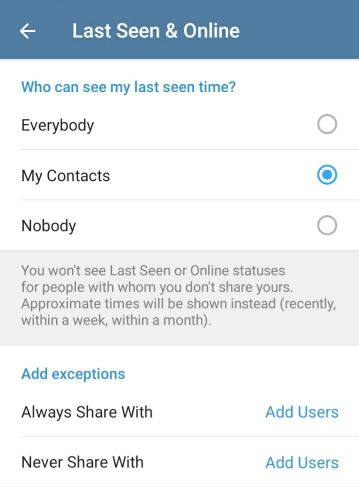 9. Create a secret chat.
In order to keep matters under discussion confidential, Telegram allows you to create secret chats with end-to-end encryption. But keep in mind that this function is only available for smartphones and only for communication between two users. The algorithm is as follows: open the correspondence with a particular contact and click on his name at the top. Then click on "⁝" in the upper right corner and in the menu that opens select "Start Secret Chat".
10. Setting up delayed messages.
A convenient option that allows you to write a message and set a specific time to send it. Such messages can be of two types: those for which you select the time and date a year in advance, and those which the interlocutor receives when he appears online (provided that his online status data is not hidden, in which case the message will be the first in his feed). You will receive a notification in Telegram about successful message delivery. But this feature is only available for users you have added to your contact list.
To set it up, open a conversation with the contact you want and enter the message text (you can also add media if you want). Press the send airplane (on the smartphone) or right-click on it (in the desktop version of the app). Select "Schedule Message" and set a suitable time or "Send When Online".
11. Going to messages on a specific date.
Just click on the last date between messages in correspondence, and in the Calendar that opens, select the date when the discussion on this or that issue was exactly in progress.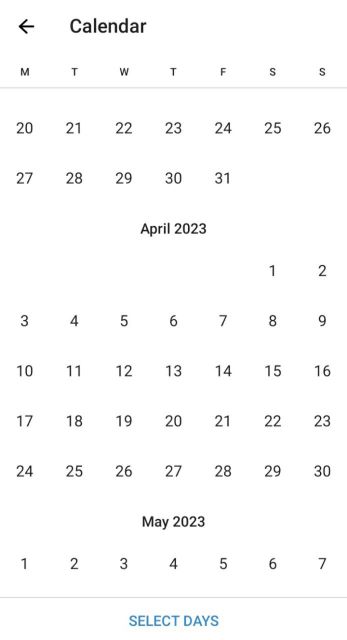 12. Deleting correspondence in personal chats for a specified period.
The sequence of actions is similar to the ones described in the previous paragraph: first, click on the date bar to open the Calendar, then select the period for which you want to delete messages (specific days or the whole month).
13. Automation deletion of messages.
To activate this function on Android in a particular chat, you should click on "⁝" in the upper right corner, and in the menu that opens — "Clear History".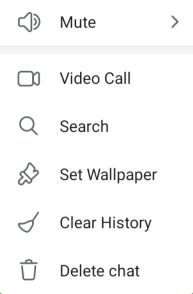 On iOS, you need to hold your finger on any message, press "Select" — "Clear Chat" — "Enable Auto-Delete".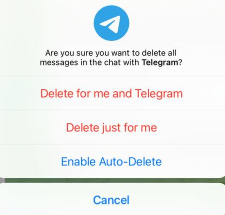 14. View a list of those who have read your message.
You can find out who in the chat has read your message by simply pinching it. So, if someone does not answer, most likely, he or she will not be among those who have read it.
15. Mark chats as unread.
Even if you have already opened and read a dialog in the chat, but you need not to forget about the important information from it, the chat can be marked as unread. To do this you need to hold the latter, then click on "⁝" in the upper right corner and in the menu that appears select "Mark as unread".
16. Quick messenger cache cleaning.
Useful function to free up memory on your smartphone. The procedure is as follows: go to "Settings" — "Data and Storage" — "Storage Usage", click "Clear Cache".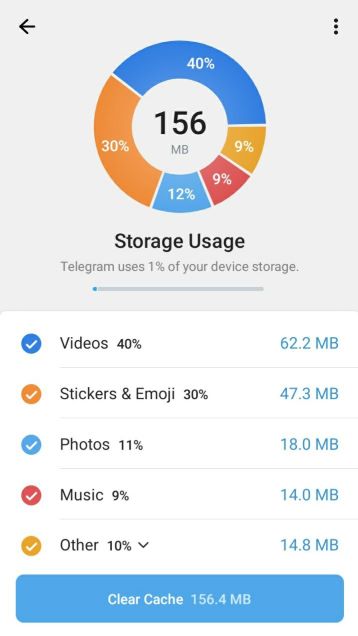 17. Disable notifications about new users.
Don't want to be distracted by such notifications in the messenger? There is a solution: go to "Settings" — "Notifications and sounds", move the "Contact joined Telegram" slider to the inactive position.
18. Set your location to broadcast.
This function is useful when you are going to meet a dialog participant. To activate it, click on the paper clip at the bottom right of the screen, in the menu that opens — the icon "Location", then "Send My Current Location" (to indicate a point on the map) or "Share My Live Location" (to inform about your movement in real time).
19. Search for people nearby.
This function is designed for situations where, for example, you need to find local group chats (district, house, etc.). You activate it by going to "Contacts" and tapping "Find People Nearby".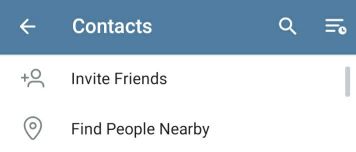 20. Set the traffic-saving mode.
Disabling media autoloading will help you save traffic when you are roaming or in a situation of limited mobile Internet. To do this, go to "Settings" — "Data and Storage" and disable the "When using mobile data" or/and "When roaming" media autoloading.
You can also enable call traffic savings when you are roaming.
21. Set up a cloud password.
If you access Telegram from devices other than your smartphone, it is useful to set a cloud password that will be prompted when you sign in to the app from other devices. To do this, open "Settings" — "Privacy and Security" — "Two-Step Verification" and enter in the line the combination you invented.
We hope that in the course of reading this article, you learned about Telegram's unknown features and will use them along with the rest in the future.